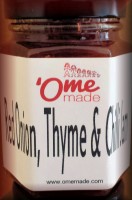 Red Onion Thyme & Chilli Jam 120g
Red Onions & savoury thyme create a sweet and slightly sour
flavour with a little heat from chilli. Fantastic with soft cheeses,
especially goat, or with roasted meats & grilled fish.
Ingredients: red onion, sugar, lemon juice, vinegar, thyme,
cayenne chilli, salt
May contain traces of nuts.