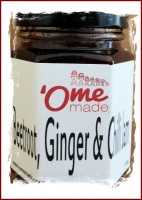 'Ome Made Beetroot Ginger & Chilli Jam 120g
Packed full of beetroot with a touch of ginger & gentle chilli heat, try this jam with sharp crumbly cheeses or cold meats.
Goes well with cured fish such as mackerel or smoked salmon.
Transforms a simple cheese sandwich into a gastronomic delight!
Ingredients: beetroot, sugar, ginger, water, cayenne pepper, vinegar, salt.
May contain traces of nuts.
People who bought this item also bought